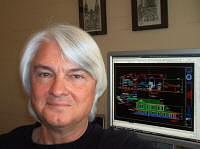 Stephen Coker
Graduated Auburn University in 1974 with Bachelor of Architecture Degree
Registered as Architect in State of Alabama in 1977
Certificate Holder - National Council of Architectural Registration Boards
Past Member - American Institute of Architects
NCARB Professional Development Certification:
Sustainable Architecture
Energy Efficient Architecture
Fire Safety in Buildings
Accessibility for the Physically Disabled
Architectural Acoustics
Career Timeline:
2003 - present: Stephen Coker Architect LLC
1995 - 2003: Coker Anderton Cosper Architects
1985 - 1995: Coker Anderton Architects
1980 - 1985: Burns & Coker Architects
1974 - 1980: Apprentice to Robert Byram Architect
Some projects shown herein were designed in association with the above firms.
Married to Carla Wells Coker since 1975
One son Jamie born in 1991 and daughter-in-law Karianne


All designs are copyright by Stephen Coker and associated firms noted above and shall not be replicated by anyone for any purpose. All rights are reserved.
Photos are copyright by Stephen Coker or Lewis Kennedy. All rights are reserved.